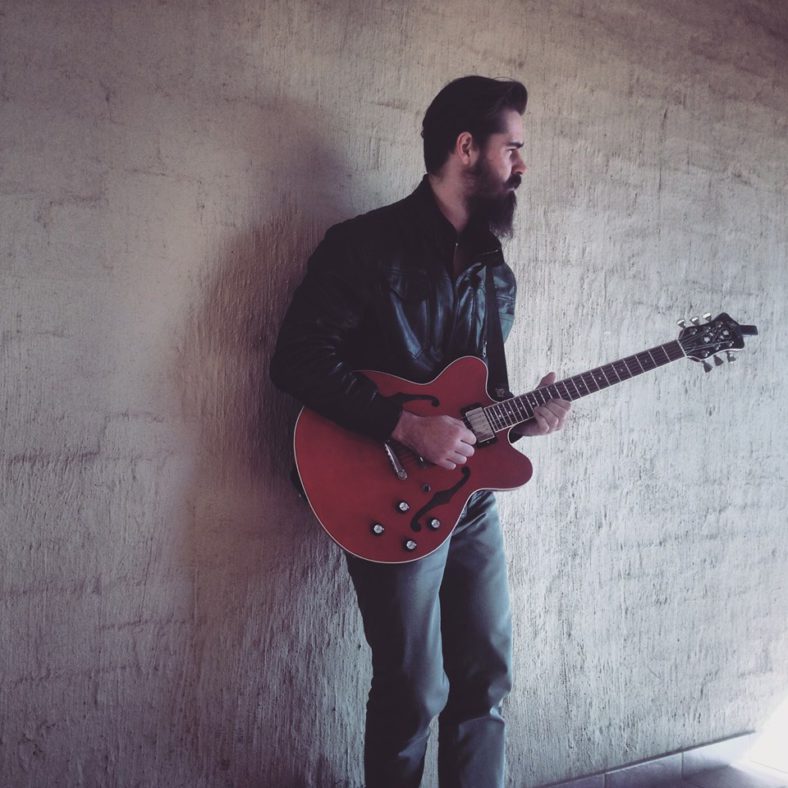 The Bearded Bluesman: Ruan Graaff
Guitar Excellence had the privilege of recording some awesome blues licks with Ruan Graaff. So we decided to ask him a few questions about his influences and about his guitar playing. His "Bearded Blues" video guitar lessons are all available in our FULL ACCESS members area. Enjoy!
What made you pick up the guitar? 
My mother's side of the family was very musical. My grandfather played guitar in a band, my grandma can play guitar, organ, and sing, and my mother and her two sisters were amazing singers who could also play guitar and piano.
So at the age of 5, I got my first guitar. Mainly because since the day I could make a choice about what I wanted to do, I chose guitar and never doubted my decision once. It came naturally because I grew up around musicians. And God gave me the desire to pursue it.
What are Ruan Graaff's 3 biggest influences on the guitar? 
I always look to try and keep my playing melodic and add in some notes or chops that spice up whatever I'm playing. So I listen to guitar players like John Mayer, Keith Urban, Brad Paisley for ideas and concepts to use in that aspect. For the more flashy parts of my playing, I look up to guitar players like Guthrie Govan and Nick Johnston. Their clever use of the chromatic scale makes their licks 100 times more interesting. My strongest love would be blues and blues-rock. I love players like Joe Bonamassa, Gary Clark Jr, John Mayer once again. I also have a strong metal background listening to Periphery, Tesseract, Lamb Of God, Underoath,  Animals As Leaders, Meshuggah. Those bands opened up my eyes to the worlds and dimensions of rhythm! Their perception of rhythm is so whack yet makes so much sense.
If you had to make the ultimate band with any players in the world, dead or alive, who would make the cut? 2 guitarists – 1 vocal – 1 bass – 1 drummer – 1 additional/keyboard/trumpet
The band would probably end up being a Blues Rock kind of band.
Guitar 1 – John Mayer
Guitar 2 – Joe Bonamassa
Bass – Billy Sheean
Drums – Mike Portnoy
Bassist could switch between Sheean and Pino Paladino
The biggest mistake you see guitar players make over and over? 
I guess the fact that some metal heads for example, just couldn't play an Afrikaans Pop song properly with proper tone. I'd say if you think metal is always more difficult than something like an Elvis Blue song you could be wrong! Some pop music has really cool guitar parts and really challenge you especially when it comes to tone! So the point I'm trying to make is, don't be narrow-minded! Try other styles. Try "easier" styles. You'll discover the challenges with time because every music style has its own set of challenges.
The one piece of gear Ruan Graaff cannot live without? 
My delay pedal. Delays add SO much to riffs and soaring lead parts! Can. Not. Live. Without.
Any exciting projects coming in the next 6-12 months? 
It looks like I'll be joining Brendan Peyper on a coastal tour in December. Also, a tour with Joe Foster in September which I'm also amped about!
And possibly another project I could become a part of, for an event in September. But I can not tell you much about that just yet.
The best advice you ever received when it came to guitar playing? 
To never be satisfied. Keep pushing. Keep improving. Never stagnate.
Any up and coming guitarists that we should know about? 
Internationally: Jakub Zytecki. He is a multi-instrumentalist. His solo album can be found online. Then also Nick Johnston. AMAZING player. Walks alongside musicians like Guthrie Govan, Jeff Loomis.
Locally: Regardt Scheepers! A session guitarist from Johannesburg. Great player! Also, Raymond Rattey – monster guitarist!
Does Ruan Graaff aim for the never-ending pursuit of perfection or is it better to strive for completion?
Perfection is my only target. I'll never play a show or accept a gig and rock up not knowing what I'm supposed to. And I'll rather practice through the night to perfect the parts. So I'd say both! Get it done on time without slacking when it comes to standards.
With the release of your last prog rock album are you being the musician you want to be or are you busy competing?
Those prog albums were written and recorded when my sessions and gigs were on the lower side. But I decided to lay that project to rest to focus on penetrating the local session scene. So far I'm very happy with how things are going! But you're ALWAYS competing in the session scene. Always.
What are you practicing and why?
Well, I try to put more time into acoustic guitar. My electric guitar playing is worlds apart from my acoustic guitar playing in my opinion. The 2 differ quite a lot in my opinion. So I feel I have some time to make up on Ac guitar still.
To get Ruan's new vidoe lessons you will need a sign up for a FULL ACCESS in our memebers area.