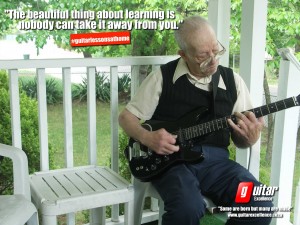 Why This Is The Year To Start Playing Guitar?
Why is this the year to start playing guitar? Well let's examine some brief history before we tackle we answer that question. On Woodstock farm on August 18, 1969 Jimi Hendrix played what is today considered one of the most prolific guitar performances. A few years later great blues guitarist Duane Allman and The Allman Brothers played one of many magical nights at the Fillmore East.
Fast-forward to December 8 2007, at the Nokia Theatre, Los Angeles, when John Mayer and his trio melted faces on this amazing recording. And 2015 could be the year you make musical history by picking up a guitar and learning to play. Who knows? If you're as inspired by these performances as I am, it's time you did pick up the guitar. Why not try and play what the instrument these legends all had in common. It could be your single resolution for this year.
The Benefits Of Music
According to recent statistics, the guitar is amongst the most popular modern instrument in the world today. It's easy to transport on a weekend away with your buddies. It's also relatively easy to play songs and sing with, and, thanks to those legends I mentioned, it's one of the coolest looking instruments too. Did I mention it's a chick magnet, or a dude magnet? Just look at the gorgeous Orianthi Panagaris of Michael Jackson's band. And think about all the ladies clamouring for James Blunt. And that's all regardless of whether you enjoy acoustic folk like Bob Dylan or love the howl of Eddie Van Halen's Eruption guitar solo.
Another advantage to playing guitar is the wealth and convenience of information on the Internet and through home guitar lessons leaders like Guitar Excellence. Our subscriptions gives you access to our cloud that we teach through and it contains recorded videos. This comes with Guitar Pro TABS and the latest games and apps to make learning guitar fun and easy.  We also have live online lessons and video guitar lesson available 24/7.
Let's face it, in this fast-paced life that we live, it's hard to get time to spend doing anything, never mind learning and driving to guitar lessons. Traffic? Ugh! At Guitar Excellence we drive to you or help you learn online. Imagine a professional guitar instructor helping to hone your craft and take you to the next level as a guitar player, in the comfort of your own home. Or perhaps you're sick of rushing the kids around to extra murals after school – with Guitar Excellence, you can hang your car keys up and we'll be there.
Start Playing Guitar Today
So what are you waiting for? If you have a passion for music and have been putting this off for a while, this is your year. If you start today imagine what you would be able to do in 6 months or even 12 months time? I challenge you to take up something that will enrich your life forever! We can help you. Stop wasting your life away watching TV and Playstation. Another week. Another month. Another year. Don't wait for something that will enrich your life FOREVER!