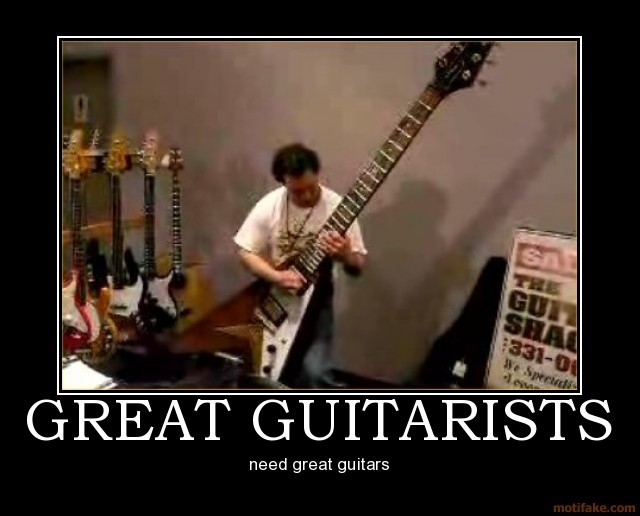 Guitarists You Should Be Listening To
Listening to great guitarists can do wonders for your own playing. Whether you play the same genre as these guitarists or not, and even whether you would ever use the same techniques these guitarists are known for or not, is immaterial. You can always learn some from a fantastic player to add to your own overall musicality. I'd like to share with you some guitarists that I highly recommend listening to. Some of them are well-know Old Masters, and some are newer, lesser-known players, but all are worth a close listening. Phrasing, note choice, composition of parts and tone, are just some of the things that your ears should be going to school about. Enjoy!
Jimi Hendrix

Jimi Hendrix is widely regarded as one of the best instrumentalists in rock music. He was a sonic pioneer, with regard to his use of effects (both with pedals and in studio), and his command of his instrument and the variety of techniques he seamlessly integrated into his songs, is incredible. He has great songs that also showcase the limits and reach of the electric guitar. He has an amazing approach to chord and lead playing, and manages to integrate them beautifully.
Jeff Beck

No one plays guitar like Jeff Beck. He is regularly cited as the favourite guitarist of many of the people included in this list. He has frightening technique and plays magically in the places between conventional notes. This come from a combination of playing with his right hand fingers, rather than a pick, and his constant leaning on the whammy bar of his Strats. He is also a terrifying slide player. I don't know how he does it, but anything that I can manage that even comes close to what he accomplishes, makes me a better player.
Jimmy Page

Jimmy Page oozes heavy rock riffage, with his iconic low-slung Les Paul. Sometimes criticized for somewhat 'sloppy' playing, for me, the absolute genius of Mr Page is evident when I work out how to play Led Zeppelin songs. He wrote the most incredible guitar parts. Brilliant. Jimmy Page took the Blues and played them faster and louder than anyone had before. The result is inspirational.
David Gilmour

Mr Gilmour is synonymous with 'taste' to my ears. He plays beautifully in tune and his note choice and phrasing is impeccable. There is such beautiful tone in his fingers. Listen to Gilmour to "keep it classy".
Eric Clapton

I feel that Eric Clapton suffered a bit under the weight of his own hype. He never claimed to be "the best guitarist in the world" and that was often what he was called. However, there is a reason why Clapton is probably the most famous guitarist ever. Everyone knows who Eric Clapton is. People who have no interest in the guitar or guitar music know Eric Clapton. He is an incredibly lyrical player, both tonally and melodically. An incredibly 'musical' guitar player, his magic is being able to step into any musical situation and play the guitar beautifully in it. He has become an elder statesman of the Blues.
Derek Trucks

Now for the young turks. First up, Mr Derek Trucks. Derek is a slide player. He plays a Gibson SG with a medicine bottle slide. I don't believe there is a better, more musical and more frighteningly, naturally talented player around today. He has played with the Allman Brothers Band, with Eric Clapton's band, with his own band, and, most recently with the Tedesci Trucks band, fronting with his wife, Susan. He is a tuneful, natural, and incredibly musical player. He is also terrifying when he puts his slide down and plays conventionally. Just an all-round monster.
Nels Cline

And finally, be inspired by the avant garde stylings of Wilco's Nels Cline. Nels has managed to carve out a spot as a guitar hero in an age when guitar heroes have been somewhat less than fashionable. His playing is undeniably impressive and inspiring, while simultaneously being above any criticism for being anything other than "playing for the song". No mean feat, as anyone who has tried to do this can attest. He is also a sonic architect; with a separate table of "science experiments" aside from his comprehensive pedalboard.
Check them out and be inspired!