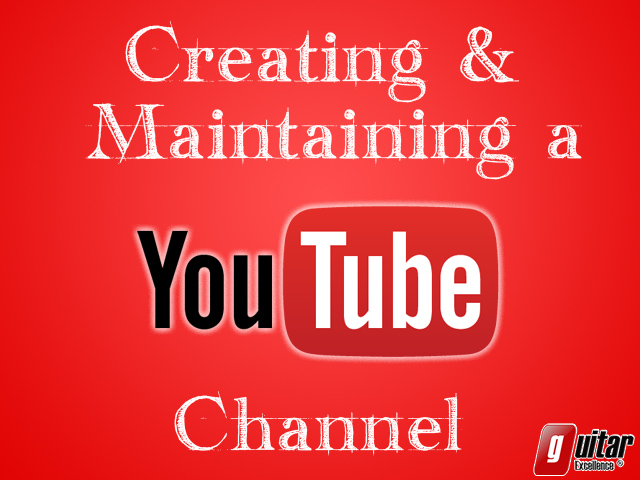 Creating & Maintaining a YouTube Channel
One of the best things about creating your own YouTube channel is that it's easy to do. You don't need a huge budget to promote your project. It's about embracing a few simple ideas, being passionate about what you do and showcasing your talent. Here's how it's done.
Get Started
Setting up your YouTube channel is simply a case of registering: choose a name and add some simple design to your page. Select a catchy name that you can use across your other online platforms, too. Make sure to choose a name that's easy to spell and search. For bands and solo artists, this is easy.
Build Your Brand
Make sure your YouTube page shares a similar design to all your other sites and social media pages, with a standard theme running through Twitter, Facebook, Soundcloud, and so on. To present a professional-looking brand image. It's worth using your own website or blog as a 'main' site that ties everything together, so make sure that your main site features links to your other pages.
Gear Up
Obviously, you need to make the videos before you can post them, so you'll need a basic way of recording and editing video and sound. You don't need to invest in high-end professional equipment. Many smartphones let you create HD video with basic sound and upload directly to Youtube or Vimeo. If possible though, a basic microphone for better quality audio will do wonders for the general feel of your videos and channel. Once you've shot your video, you'll need to edit it, but again, there are plenty of free and cheap video editors available.
Be Creative
Uploading your song, demo or lesson is one thing, but with millions of videos on Youtube, you need to stand out. You can hook viewers in with creative covers. Another option is a cool concept. Take a look at the Trending section of Youtube and other media platforms. Note the content, length and the number of hits on these videos. you can always "lift with integrity" off others by creating a similar (or better) video to drive traffic to your channel. Include links to your other videos to convert chance viewers into fans.
Give It a Name
Forget clever plays on words. Your video titles need to be specific and improve your visibility by using keywords and phrases that people will likely search for. Add a detailed description and choose specific keywords from your video description for the Tags section. Allow mobile/embedding/sharing so people can watch on their mobile devices and share your videos straight to their Facebook or Twitter accounts.
Keep Your YouTube Content Regular
Regular content keeps people coming back.
Subscribe to our newsletter here – https://www.guitarexcellence.co.za/ne…
© Guitar Excellence 2016 All Rights Reserved