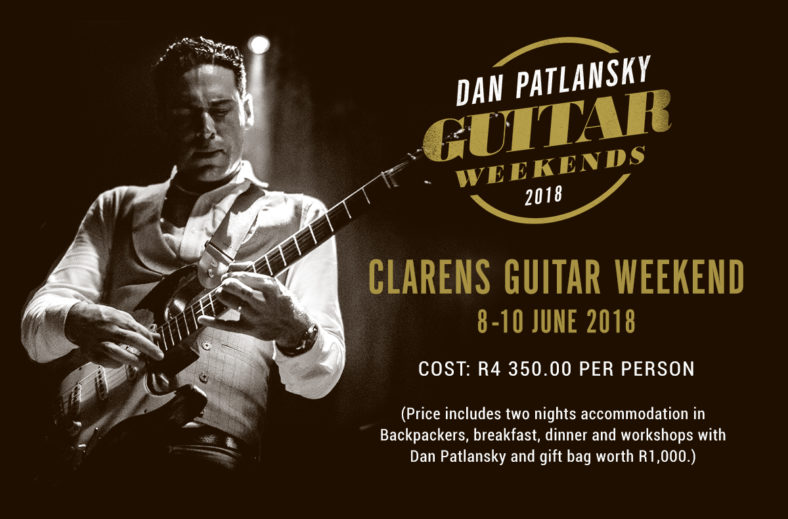 Dan Patlansky – Clarens Guitar Weekend
Date: 8 – 10 June 2018
Venue: Clarens Backpackers and Inn
Price: R4350,00*
(*Price includes gift bag worth R1000, two nights accommodation in
Backpackers, breakfast, dinner and workshops with Dan Patlansky.)
Bookings: Email [email protected]
BOOK YOUR SPOT TODAY – LIMITED SPACES AVAILABLE!
The DAN PATLANSKY CLARENS GUITAR WEEKEND is back in June 2018 for the first opportunity this year to eat, breathe, sleep and play guitar with #4 best rock guitarist in the world, as voted by Total Guitar Magazine UK, DAN PATLANSKY.
Fresh from the return of his first Germany and UK sold out tour of 2018 as well as a nationwide South African tour to promote his new album 'PERFECTION KILLS', DAN now returns to the stunning countryside in Clarens for an invaluable experience consisting of 3 days of guitar workshops including one-on-one face time with Dan Patlansky. All skills levels welcome. Spaces are limited, so be sure to book your place TODAY!
Voted #1 in the world twice by Blues Rock Review USA for his albums 'Dear Silence Thieves (2014)' and 'Introvertigo (2016)', the only artist to receive this accolade twice, you will find no better teacher than this guitar virtuoso and this is your chance to spend 3 days living guitar playing with Dan Patlansky.
For more information, please visit: http://www.danpatlansky.com/guitar-weekends
BOOK TODAY: [email protected]
Subscribe to our newsletter here – https://www.guitarexcellence.co.za/ne…
© Guitar Excellence 2016 All Rights Reserved