SA Guitar And Music Expo 2017
We had an interview with the man behind the annual SA Guitar and Music Expo, Manie Grove and got to ask him a few questions regarding this wonderful event that is so needed in South Africa.
Hosting an event like the SA guitar and music expo takes a lot of planning and work. How did it all start for you?
Manie: It started about 20 years ago – I kid you not. The biggest challenge is location. You know, you've got places like The Dome and Gallagher Estate. Every place is horrendously expensive and you know, it's just finding the one that's going to work and that's why I have it at the Wanderers every year. I've been a member there for a while and it was just crazy not to use it. It's a beautiful venue. Normally when you go and play a gig you've always got a lousy dressing room in a lousy place and this is just so nice for the musicians just to see the opulence of the place and, it's just absolutely gorgeous. So the idea formulated over 20 years ago and 3 years ago I thought: 'the heck with this, let's do it here'. We did the first one and it was a resounding success. The second one was huge and this one's going to be even bigger!
What inspired you to start something like a guitar and music expo in the first place?
Manie: You know Erick, to be honest with you, it was really to do something for the industry. The industry is not in a good shape, I don't think. And talking to a lot of people in the industry, I established that May/June are the worst months in turnover. So by having the expo, it gives them a spike in their annual turnover. That is number 1. Number 2, it's great because there is no shop, no matter who they say they are, where you can see everything. Hence the reason for the SA Guitar and Music Expo.
It just doesn't happen. I mean if I just think off the top of my head of the majors – you don't see the full range of Yamaha gear. I mean there's no way you see all the Motif's, all the mixers, etc. in the shop. You just don't. Here you've got a chance and you can talk to the product guys who really know their stuff. That includes desks. I made a big mistake when I initially called it the 'guitar and music expo' and I can't drop the word 'guitar' now but it's really a music instrument show.
Also, it gives the custom builders, the guys like JP Le Roux who builds amplifiers, Henriette Floor who does beautiful classical guitars, Luigi Machuki who does the guitar building school and acoustic guitars, Grant Fouche, Benjamin Craig, Poppifex pedals, Bill Langyer.  I'm just thinking of some people off the top of my head. These guys, they don't have their gear in shops. The shops don't stock their gear for whatever reason. It's probably because it's cheaper to bring the stuff in from China and make a huge margin than pay a South African builder or designer. So it also gives our South African guys a huge opportunity. I mean. I've got guys coming in from The Cape like Henriette Fluoor and George Worris.
I've got guys coming up from Natal like Miles Jacobi that do cabling – specialised cables, patch cables, straps and, you know, good stuff! And you can get your imported American stuff like Levi's and so on or you can buy South African. I use the words 'South African' because I personally hate that word 'local' because it's not local, it's South African. If you're living in the United States it's 'American Made' and this is South African made. They never refer to it as "our local guitar builders" because it's almost demeaning as if they're sort of 'bottom feeders'. Nonsense. I give them the respect that they deserve. I mean, we've got guys doing beautiful gear here and it's good for the industry.
The next point is that kids under 16 get in for free so they can come in with their parents and I have a big problem with the teachers. I sent a mail out to them with everything and said to them: Please bring your students. It's free! Let them come and see the gear, let them look at the Yamaha entry level guitars, let them look at the Fender entry levels, let them have a look at the Tokai's etc. and brass instruments – it's all there. It's free! Because if we don't create a market for the future, our industry's going to die. Kids are sitting nowadays with their darn smart phones and iPads and stuff and they're not playing musical instruments.
We've got to get kids back into playing musical instruments. I'm very, very passionate about that because, without that, the industry dies. A lot of dealers now, are trying to follow the American model of going mail order which is all very nice but personally, "Hey, why should I buy from a South African mail order company at a high price if I can bring it in from Sweetwater or Musician's Friend for a 3rd of the price, and I know that I'm going to get it?" You know, if you're shipping something into South Africa, you never know when you're gonna get the damn stuff. That's just another aspect altogether. So we need music shops. We need guys who can actually walk the walk and talk the talk.
Before the SA guitar and music expo, were you involved in any other event planning?
Manie: I'm  a member of the airborne community. The military – the veterans. So we have a memorial day, which is actually this coming Sunday. I've been doing that for the last 10-15 years. The guys just leave me to do it, you know. It needs to be done so they leave it to me and I organise it. So I have had experience running events before and I've run my own business for the last 40 years.
Is there a team that helps you or is it generally just you who does everything?
Manie: You are speaking to the guy who does the selling, the layouts, the City of Johannesburg documents, which is a copious amount of work, the invoicing, the collecting the money, the paying of everything, the only thing that I don't do is physically sell the tickets at the door. I get a couple of mates of mine's girlfriends and wives to help with that because I can't be at 2 entrances at once. But I do completely everything solo – absolutely on my own. It's a huge amount of work. It takes a year to put the expo together.
What was the turn out like the previous 2 years?
Manie: In the first year we had 3270 odd people through the doors, last year we had 7400 odd. The show was a lot bigger last year. Just to give you an idea, we thought the first show was huge. It was upstairs at the Wanderers in what they call the Gala room. It's a huge room. It's 21 meters by 14.8 meters and we thought this was the dog's bollocks. Then Yamaha had their own room and there was some place in the foyer so it was bigger than that room, but that was the main room.
Last year we had the ballroom which is 43m by 24m or something like that plus Yamaha had their own room, which was about 200m² plus the acoustic room was about 200m² plus we had a lot of other space plus we had about 200m² downstairs. This year the acoustics alone are the size of the area of the first year's show and it's only acoustics. Not a single guitar will be plugged in there. So it will be much bigger than last year.
How many people are you expecting this year at the SA Guitar and Music Expo?
Manie: You know, I'll be there. Maybe you'll be there so that makes 2 of us haha! But in all seriousness, I don't really know. I've been punting it on facebook and that is my prime source of marketing. I do paid advertising on it. So that seems to be working pretty well. And I think the guys, the punters, they kind of know about the expo now and I'm pushing it hard. So I certainly hope that we get more than what we had last year and I believe that I will.
And what we're also doing this year, just out of a matter of interest – in the past, each time you came in you paid a hundred bucks. This year, we're doing a system where you pay once and then you can come for all three days so it'll save a sh*tload of money. I saw some people coming in on the Friday, Saturday and the Sunday. I felt really bad and they paid, they were quite happy to pay. I mean R100 basically buys you a McDonald's happy meal. And then you still get guys who bitch about paying a hundred bucks. You know, if an oke's that type then I give him a ticket. I really couldn't be bothered haggling about nonsense.
To those who have never been to guitar and music expo, besides for instruments and gear on display, what else can they expect?
Manie: Oh man! I'm glad you asked that. You will have demos being done by guys like Nick Rush and all those kind of cats. There'll be drum workshops, guitar workshops, keyboard workshops – at the individual big stands. Then guys like Yamaha, Marshall Music and these all have their own rooms. All big rooms that's just them. Then also, for entertainment during the thing, we've got bands playing. And you know, lots of guys want to play but I've got to keep the standard very, very high.
I'm sure there are some great young bands around and all that but you know I've got to get guys who are established so we're getting guys who have walked the walk already and have paid their dues. I would love to give a guy who's never ever done a gig, an opportunity but don't forget that they're now playing for their peers so it's very difficult when you're playing for other musicians. You've gotta know your stuff or else you are dead in the water. <he continues to elaborate>… And I'm not knocking local musicians at all. In fact I do the expo to really give them a platform and for them to see what's going down.
Join us at the SA Guitar and Music Expo 2017! It's a must for any musicians and music enthusiasts.
Additional Information:
Date: 26-28 May 2017
Time: Starts 2 p.m. Friday, ends 5 p.m. Sunday
Venue: Wanderers Club – 21 North Road, Illovo
Price: R100 for full weekend pass | Kids under 16 get in free
Links: Facebook event | Facebook Page | Website
Subscribe to our newsletter here – https://www.guitarexcellence.co.za/ne…
© Guitar Excellence 2016 All Rights Reserved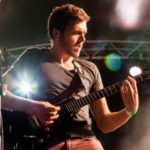 Plays for "Red Helen" and "Truth and It's Burden". Can make his guitar sound like an accelerating car. Currently doing his BMus Honours degree with the University of Chichester. Sucks at Guitar Hero. Can solo behind his head. Has gigged extensively throughout South Africa.
Video Guitar Lessons

Don't have time to commit to a weekly guitar lesson?
Learn guitar 24/7 when it suits you with professionally recorded lessons with multi-angles, on-screen notes & tabs.
Online Guitar Lessons

Live outside a major metro area but still want live guitar lessons?
Live lessons done via Skype with a qualified instructor giving you instant feedback no matter where you are in the world.
Home Guitar Lessons

Struggling to learn guitar on your own and want a weekly lesson at home?
We offer all the lessons in your own home from a qualified guitar hero in Johannesburg, Pretoria and Cape Town
Free Air Guitar

Improve your guitar playing with the latest tips, tricks and power stance moves in your inbox every month!