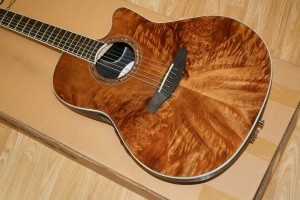 Guitar Love: Ovation Celebrity Series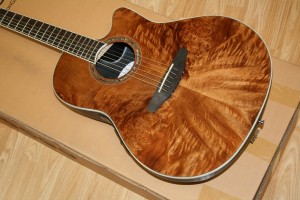 The Ovation Celebrity series guitars are a good batch to look at if you're looking into getting a nice entry/mid-level acoustic guitar. I hope to offer some pointers on the series in this blog that can help anyone curious about these instruments.
A lot of information on the models and the specs of each can be found on the official ovation page: click here.
Ovation Celebrity Series: Some Features
One of the key features of the Ovation series is that they come with a round plastic bowl back. They have three main shapes: shallow, mid and deep bowl. Some players find it quite uncomfortable to play with the shape but in my experience, it actually fits quite nicely to your body. Putting it up on a stand can sometimes pose a problem though.
I own a CC-24S mid-depth cutaway, pretty much the entry level model of Ovation Celebrity series guitars. The CC-24S features a cutaway body style, solid spruce top, centre sound hole and rosewood fingerboard. It comes with an OP4BT preamp, which offers a +-12db adjustment for bass, midrange and treble frequencies.
The first thing that struck me when I played it in the shop was that it was extremely playable, was very easy to move around the neck and the price was affordable. I wanted to try the series and was looking for an entry/mid-level acoustic, so after I tried a few other brands I decided to purchase it. I have been playing on it for about a year now and done quite a few gigs with it. One of the main things to be aware of with the Celebrity series overall is that they can get 'tinny' if not EQ'd properly.
High End
The high end can be quite fierce. I did a gig recently and one of my friends from one of the bands in the line-up complained about the tinny tone. I think the reason behind this is that the series has the plastic bowl and unlike full wood body guitars, the tone can lean toward being more tinny. Having said that, if you EQ it properly beforehand you can get a very sweet sound out of it, plus the high end can be great for cutting through a mix! Here is an audio demo of the model so you can hear the tone: click here.
In fact, I really enjoy Ovation guitars (when EQ'd right) and for my next purchase, I'm aiming to get a Celebrity CE44P-FKOA. The Koa top has a nicer sound to it in my opinion: a bit less intense high end, has the OP4-BT pre-amp (most of the celebrity models come with OP4-BT pre-amp and Lyrachord body), and once again the series is more affordable than other models. The look is also quite appealing to me but remember to not judge a book by its cover. Here is a review of the Celebrity Koa CK 047 so you can hear the difference in tone with the Koa top: click here.

Conclusion
All in all, I think it's a preference thing when it comes to the series. It's definitely not for everyone. I have friends who swear against the brand and others who praise it. Tone is a very personal pursuit for a guitarist. Unlike a singer who is born with a tone, a guitarist has to spend time experimenting until they find their sound. Some people love Elvis or Thom Yorke's voice, and others hate it! The same will also apply to a guitarist's tone.
I hope this blog can help a little on your journey and can give a little bit of insight on the Ovation Celebrity series. I will leave you with a final video that has a demo and discussion of the Ovation Celebrity Series: click here.
* Completed an honours degree in music at University of Pretoria * Currently performs in a guitar and piano duet * Played guitar Hero and nailed it first time * He is a jazz specialist * Has a wealth of knowledge in music theory * Was taught by the world famous Jonathan Crossley * Has 2 years teaching experience
Video Guitar Lessons

Don't have time to commit to a weekly guitar lesson?
Learn guitar 24/7 when it suits you with professionally recorded lessons with multi-angles, on-screen notes & tabs.
Online Guitar Lessons

Live outside a major metro area but still want live guitar lessons?
Live lessons done via Skype with a qualified instructor giving you instant feedback no matter where you are in the world.
Home Guitar Lessons

Struggling to learn guitar on your own and want a weekly lesson at home?
We offer all the lessons in your own home from a qualified guitar hero in Johannesburg, Pretoria and Cape Town
Free Air Guitar

Improve your guitar playing with the latest tips, tricks and power stance moves in your inbox every month!