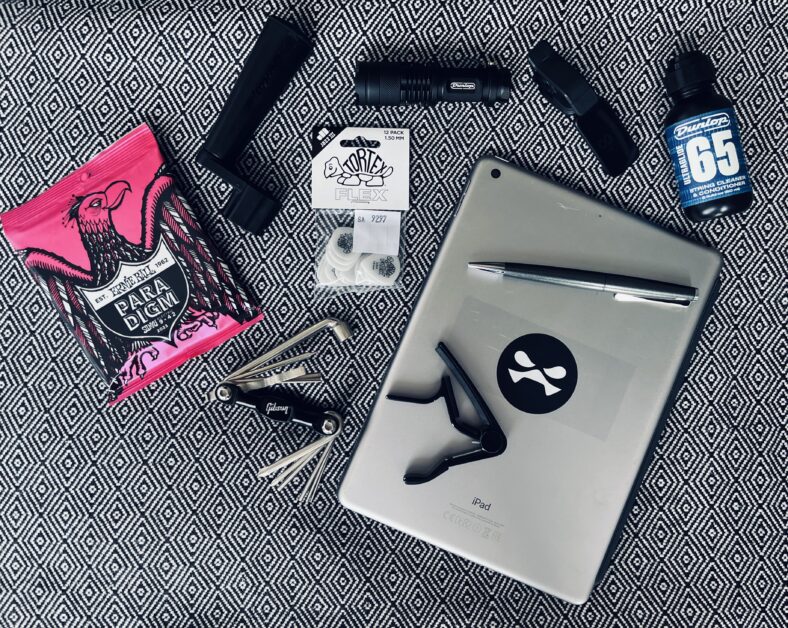 Everyday Carry For The Modern Guitar Teacher
Everyday carry or EDC is a very popular term being used currently. YouTube has exploded with this scene. It was a term commonly used by the "prepper" community but has shifted to the more modern man or women. It simply means – the stuff you carry on you to make your life easier or use every day. What this does not mean is carrying an entire workshop or tool box on you at all times.
Unless you teach in the far outback Alaskan woods, just a few simple items will help make your everyday teaching a much more pleasant experience for you and your pupils. With that being said, let's explore some common everyday carry or EDC items that will make your life much more pleasurable.
 1.Everyday Carry Tip 1: A Tuner
Every guitar needs to be tuned up. Some more than others. Hello Gibson. Neither you or your pupil cannot play anything reasonably pleasant to anyone's ears unless your instrument is tuned up. I tune my guitar and my pupils guitars at every lesson. Sometimes tuning multiple times in a lesson. Hello again Gibson.
We use the Korg Pitchclip 2 which is an easy slip on the headstock version. They work on vibrations and sound. This is AMAZING especially when 30 kids are screaming at each other trading Pokémon cards in your class whilst you are trying to tune up their guitars. Life changing compared to the old brick type tuners. Yes I'm old. Avoid the free apps as they are very sensitive and not accurate at all. Use as a last resort.
 2. Everyday Carry Tip 2: iPad With Guitar Pro
Save the trees people! Gone are the days of photocopied music and traditional sheet music. Sorry piano teachers. A digital archive is easier to keep and track lessons. Everything can be done via the iPad. If you are not using one then for your lessons with Guitar Pro, then I am afraid you need to take a serious look at your value offering to your pupils.
Guitar Pro is an interactive software that allows the music to be played back, slowed down, edited, and even change keys. Being environmentally friendly is a huge bonus too. All printable in PDF as well for the old timers. As an education partner with Guitar Pro, all of our pupils get this software for 50% less. All Guitar Excellence teachers have been using iPads at our lessons with Guitar Pro since 2010.
 3. Everyday Carry Tip 3: Picks (3+)
Unless you are Paco de Lucia, you need to pick the strings to play the guitar. This is exempt for classical and Flamenco guitar teachers. Your pupils will always need to "borrow" a pick. A top tip is keeping your old worn out picks in your guitar case. It won't hurt the bank for the pupils that like to "borrow" these and never give them back.
Picks are expensive so make sure you get them back from your pupils but, when they are old and withered then it's a little easier. I always carry a packet of picks in my bag and sell them when pupils don't have constantly at lessons.  I use Tortex Flex Jazz III picks for maximum accuracy and playability, without the scratchy or tinny tone from extra hard picks like the Ultex.
 4. Everyday Carry Tip 4: Capo
Let's learn to play Wonderwall. Capo on the second fret. Oh wait. Some songs require a capo. Singers tend to make our lives more complicated and this is how it all started. I use the Dunlop trigger capo. Easy on. Easy Off. Firm grip. And even easier to slide up and down to change keys. You get different types of capos for acoustic, nylon, and electric guitars.
Each is a specialised capo for a wider or narrower neck to fit the style of the guitar. This means more accuracy in terms of intonation and tuning. You can wing it with one type of capo but best to have a dedicated tool for your dedicated instrument. Don't be cheap. Go Dutch on your next date if you have to save up. No don't do that please. Never do that. You spent R50 000 on your Martin so splurge on the few hundred for a dedicated capo.
 5. Everyday Carry Tip 5: Pen
Occasionally you will need to write or explain a few things for your pupils on a piece of paper with a pen. Some things don't change. I own the very sexy Lamy studio limited edition. A pen is a pen. Yeah right. See what I did there? 🙂 A quality pen writes smoothly, works beautifully, and is aesthetically pleasing to the eye.
Leave the Bic at Home Affairs. Your customers hired the best so start looking like the part. You can keep it for years to come and even pass it down to the next generation. Just like your guitars but at a fraction of the cost. I also got my engraved so no pupils don't get sticky fingers.
 6. Everyday Carry Tip 6: Pro String Winder
Strings break. Johnny likes megapints. Amber gets sued. These are simple facts of life. Any guitarist is bound to snap a string at one point. Your pupils may need help with a string change and this is how your hero status can be confirmed. Best of all it will be done in record breaking time by using a string winder. The cheap string winders tend to come unscrewed or undone under constant wear and tear. Been through many. The Dunlop pro string winder is the most reliable one I have used over the years.
 7. Everyday Carry Tip 7: Spare Strings
I wish strings didn't break but they do. They are bound to break now and then unexpectedly. Alas you need to have a spare set to carry on your Rock n' Roll Armageddon.  The same as tyres on your car or website plugin updates, they are what we call consumables. I do however feel and hear the difference of freshly opened strings compared to website plugin updates.
Your pupils should be changing strings every three months or seasonal change. A professional guitar teacher changes strings every month. This prevents string breakage and provides a constant fresh and loud tone. Better tone makes you play better. Who wouldn't want that. The same way you wash your clothes because it make you feel nice, smell nice, and you like look a respectable person in a civilized society. The same principle applies to your guitar strings. People judge.
The best strings in my opinion on the market today are Ernie Ball Paradigms. They have a long lasting bright tone and are pretty much unbreakable. I thought it was marketing BS but after using them for a few years now, I know they are well worth the price.
 8. Everyday Carry Tip 8: String Conditioner
Whilst we are still on the subject of guitar strings. A useful product that helps prolong and give extra life to your guitar strings is Dunlop Ultra Glide String Conditioner. Wipe these on your strings every day or every other day and hear the tone sparkle up. It gives a much needed tonal boost to strings. Not many guitarist know about this product but, I use it on all my pupils guitars once they start getting dull. You can hear them come alive again instantly.
For clarity purpose, it is not a cure for old string but, merely gives them extra brief brightness. I would say around 30-40% more added life. Putting them on your strings at the start of the month everyday will help your string tone stay virtually new till month end. What is not to love about that!
 9. Everyday Carry Tip 9: Guitar Multi-Tool
The equivalent of a Leatherman but for a guitar. They have all the bits and bobs to take apart your guitar and get to know your baby a bit more intimately. Occasionally you will need to inspect under the hood and this Gibson bad boy has all you need for the basics when a professional is not around.
Side A
5/16″ Truss Rod Socket
4mm Slotted Screwdriver
1/8″ Hex Key
1/16″ Hex Key
0.05″ Hex Key
Lever with laser engraved reference marks (3/64″ and 5/64″) for adjusting action at the 12th fret
Side B
1.5mm Hex Key
2mm Hex Key
2.5mm Hex Key
3mm Hex Key
#1 Phillips Screwdriver
#2 Phillips Screwdriver
 10. Everyday Carry Tip 10: Flashlight
A dirty word that not many people outside of South Africa know is a word called "Load Shedding". For those reading this from another country, load shedding is basically rolling blackouts for portions of certain suburbs and towns due to the straining capacity on the electricity grid. Why? Mismanagement and corruption.
I use the Dunlop Gig light that is provided in the System 65 complete tech kit in my bag. Small and convenient and it has a zoomable beam. Very cool. This provides me with enough light to navigate in the dark at my lessons. For my pupils that do not possess a generator at their homes, I have professional back up Olight Seeker 3 Pro torch in the car for emergencies, when we go on hikes, as well as, long lessons without the lights on. It is also small and powerful. It truly lights up my pupils life. Seeing is believing.
Conclusion
I hope these 10 Everyday Carry tips have helped you with your EDC as a professional guitar teacher. Let me know if there is anything that you would add to this or of you found any of the above useful in the comments section. Don't forget to share the value. 👍🏼 Stay safe and stay classy.
Download our FREE Beginner's Bible eBook
You are under 10.5 seconds away from learning the basics chords, techniques and other cool sh#t on the guitar that will help get you on the road towards Guitar Excellence!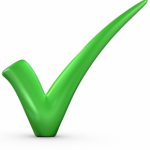 Learn To Play Hundreds of Songs In 14 Days Covering Basic Chords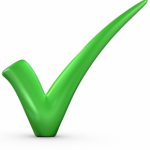 Impress Your Friends With The Basic Lead Guitar Techniques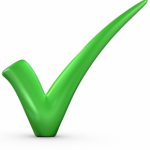 Discover The Secrets To Reading Music (It's not what you think)
*Video Lessons Included – Hi 5!